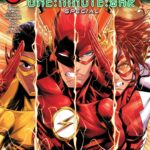 DC has posted a handful of preview pages for next week's The Flash: One-Minute War Special #1, and you can see it at Adventures In Poor Taste. The preview features the backstory of the alien species which has invaded the Earth, seen particularly from the perspective of the admiral leading the mission. Plus, there's the return of Avery Ho after her adventures in the Omniverse. Check it out at the link!
THE FLASH: ONE-MINUTE WAR SPECIAL #1
Written by JEREMY ADAMS
Art by VARIOUS
Cover by SERG ACUÑA
1:25 foil variant cover by SERG ACUÑA
$5.99 US | 48 pages | Variant $6.99 US (card stock)
ON SALE 1/31/23
A lot can happen in 60 seconds…as the Flash event "One-Minute War" rages on, writer Jeremy Adams gives you further insights into the alien speedster race that has invaded Central City, and how the Flash Family fights back!
Share