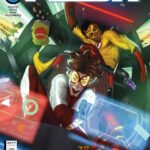 DC has posted several preview pages for next week's issue of The Flash, and you can see them at Adventures In Poor Taste. The preview features the Flash Family strategizing to defeat the alien invasion, while Wallace decides to follow Bart's plan to keep him out of trouble. Check it out at the link!
THE FLASH #792
Written by JEREMY ADAMS
Pencils and inks by ROGER CRUZ and WELLINGTON DIAS
Cover by TAURIN CLARKE
Variant cover by DANIEL BAYLISS
Variant cover by SERG ACUÑA
1:25 variant cover by SCOTT KOLINS
1:50 foil variant cover by TAURIN CLARKE
Black History Month variant cover by MATEUS MANHANINI
$3.99 US | 32 pages | Variant $4.99 US (card stock)
ON SALE 2/7/23
"The One-Minute War" part three! The Flash Family is in dire straits as the Fraction begin their takeover. Looking for a way to push them back, Impulse has an idea…the kind of idea that usually gets people in trouble. It's up to Kid Flash to keep him company on a daring mission that could help turn the tide against this extraterrestrial threat!
Share