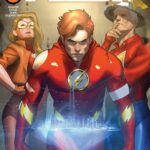 DC has posted several preview pages from Flash #793, and you can see them at Adventures In Poor Taste. The preview features the Flash Family questioning the young man liberated from the Fraction's ship last issue, while Irey is troubled about the condition of her twin. Check it out at the link!
THE FLASH #793
Written by JEREMY ADAMS
Pencils and inks by ROGER CRUZ and WELLINGTON DIAS
Cover by TAURIN CLARKE
Variant cover by MARCO D'ALFONSO
Variant cover by DANIEL BAYLISS
1:25 variant cover by SCOTT KOLINS
1:50 foil variant cover by TAURIN CLARKE
$3.99 US | 32 pages | Variant $4.99 US (card stock)
ON SALE 2/21/23
"The One-Minute War" part four! After the deadly impact of the Fraction's arrival, the Flash Family must come together and figure out what is going on and how to stop this speedster invasion!
Share