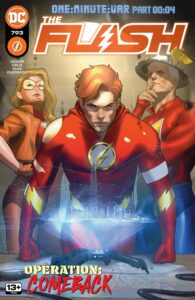 Have I told you that this is an AWESOME arc? I think so…still, this is getting better by the page. THE FLASH 793 delivers outstanding action with a huge emotional punch. We are in the middle of this storyline…and there are serious questions as to who, if anyone, will make it through unscathed. Wanna know more? Follow us after the jump!
MILD SPOILERS AHEAD!
If you want to know how serious a threat this is, just catch the first page. Even Big Blue is struggling to be heard. For all his own super-speed, Superman is out of action here, as are all the heroes of Earth with the exception of our Speed Force-powered folks. The Flash Family is ready to take the fight to the Fraction, and they have a plan. If they can take down that spire, the connection the Fraction has to the Speed Force will be gone. But, how to even get to that spire?
That's where a car comes in. A car, that is, powered by one of the Fraction's Speed Force engines. If they can race that car with Wally inside, they may be able to blow up that spire. So, the plan is in action. Irey stays behind while most of the Flash Family goes to create distractions that will allow Wally to save the day. Without giving more away…let's just say that things are looking TERRIBLE for the Flash family at the end of this issue. Everyone is in serious danger…and that's the best thing that could be said for now.
NOTES:
There are some beautiful moments in spite of all the hard-hitting action.

We see Barry talking about (dead or frozen?) Iris and their plans to marry, all pushed aside by this terrible attack by the Fraction.
There are some great moments between Jesse and Irey as well.

There is a bit of comedy between Bart and Ace involving the age-old Flash question of running into bugs.
And if you are reading this, Jeremy Adams…the Springsteen reference was perfect. Loved it!
SUMMARY:
Jeremy Adams continues to crush it with this arc. If there is anything more that an arc of THE FLASH could give us, I have no idea what it could be. I'm looking forward to the rest of this story – and this issue is a 10/10 for me. Of course, that is just my opinion – what do YOU think? Leave your comments below!
Share