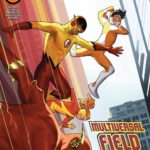 DC has posted several preview pages from next week's issue of The Flash, and you can see them at Adventures In Poor Taste. The preview features Wallace getting misled into babysitting for the West twins and their friend Maxine Baker, and things quickly go south for everyone when the kids are abducted. Check it out at the link!
THE FLASH #797
Written by JEREMY ADAMS
Art by SERG ACUNA
Cover by TAURIN CLARKE
Variant cover by DANIELE DI NICUOLO
Variant cover by YASMIN FLORES MONTANEZ
1:25 variant cover by SERG ACUNA
1:50 foil variant cover by TAURIN CLARKE
Superman variant cover by FRANCIS MANAPUL
$3.99 US | 32 pages | Variant $4.99 US (card stock)
ON SALE 4/18/23
It's a super-speed misadventure in babysitting as Kid Flash watches Jai and Irey, the Flash's children! When a sleepover goes awry, Ace has to bring back the twins, Maxine, and a few new friends from across time and space!
Share