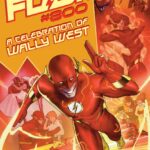 DC has posted a textless advance preview for Flash #800, and you can see a couple of preview pages from each story at Adventures In Poor Taste. The issue is due out on June 6th, so check it out at the link and await the issue next month!
Here's the list of stories and creators which are in it:
"Don't Come to Central City" by Jeremy Adams, Fernando Pasarin, Oclair Albert, and Matt Herms — Villains swap stories over a poker game about what makes committing crime in the Flash's town so difficult.
"The Max In The Mirror" by Mark Waid, Todd Nauck, and Matt Herms – This flashback tale set during Mark Waid's IMPULSE run tells an untold story of The Flash & Max Mercury trapped by Mirror Master, and only Impulse can free the speedsters!
"Flash Family" by Joshua Williamson, Carmine Di Giandomenico, and Ivan Plascencia – Barry Allen uses the Cosmic Treadmill to take Iris on a very special trip.
"Blitz Back" by Geoff Johns, Scott Kolins, and Luis Guerrero – Hunter Zolomon has been trapped in the Speed Force, and thinks he's found a way out.
"Between Me and You" by Simon Spurrier, Mike Deodato, Jr., and Trish Mulvihill – While heading to Date Night with Linda, Wally West encounters a massively powered up Mirror Master, just as the Scarlet Speedster's powers seem to be glitching.
Share