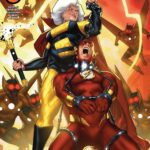 DC has posted several preview pages from next week's issue of The Flash, and you can see them at Adventures In Poor Taste. The preview features Wally's mission — along with some friends — to rescue his kidnapped baby from Granny Goodness. Check it out at the link!
THE FLASH #799
Written by JEREMY ADAMS
Art by FERNANDO PASARIN and OCLAIR ALBERT
Cover by TAURIN CLARKE
Variant cover by MIKE PERKINS and MIKE SPICER
Variant cover by ETHAN YOUNG
1:25 variant cover by EDWIN GALMON
1:50 foil variant cover by TAURIN CLARKE
$3.99 US | 32 pages | $4.99 US (card stock)
ON SALE 5/16/23
Uncovering the truth about what happened to their third child, Wally and team
must infiltrate the dangerous compound known as the Nest in hopes of saving
their newborn, while battling the formidable Granny Goodness!
Share