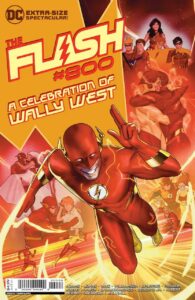 Before we start the issue count over at 1, and before we enter the "Dawn of DC" storyline, we get a special issue that celebrates Wally West at his best. There are five (count 'em) stories in this special issue, with some of the best Flash creators providing the tales. Jeremy Adams bids farewell to a stellar run on THE FLASH, while Mark Waid, Geoff Johns, and Joshua Williamson all join in , along with upcoming FLASH writer Si Spurrier. Wanna know more? Follow us after the jump!
SPOILERS AHEAD!
Let's take the stories one at a time, okay?
First is "Don't Come to Central City" with Jeremy Adams and Fernando Pasarin giving us one more Wally West story. It's mainly a talk between bad guys about where you DON'T want to commit crimes…and if you want to try to settle debates with fans of other heroes, here's a good reference. Why is Central City the place you DON'T want to try committing crimes? It's all here…and it's all fun. Just a note – Jeremy Adams has brought Wally West back to where he should have been all along, in so many ways, in so many aspects of his life. This story is one more example of how he has done just that, and I will miss Jeremy Adams on THE FLASH.
Next we get "The Max in the Mirror" with the return of Mark Waid, and artwork by Todd Nauck. Wally and Max are depending on Bart to save the day, and he can…if he can be just a little less, um, "impulsive"? It's great to see Waid back on THE FLASH, even for one issue – and this is a truly fun tale.
Third gives us "Flash Family" with Joshua Williamson giving us another great Barry Allen story. Just as Jeremy Adams gave us the Wally West we all needed to see, Joshua Williamson gave us the Barry Allen we all needed as well, and this is another great example of why. Barry and Iris have a date night…with the Cosmic Treadmill providing the transportation. Carmine Di Giandomenico comes back for the artwork, along with colors by Ivan Plascencia. This one is probably the most heartwarming tale of the issue, and it was another great read.
Next Geoff Johns returns along with Scott Kolins – but not for Wally…nope, this is the tale of Hunter Zolomon – and if you are just jumping in with THE FLASH, you couldn't ask for a better origin tale than this.
And finally, Si Spurrier gives us a preview of what we will see next for Wally West. You may already know that this "Dawn of DC" story arc will have a sci-fi horror feel – and it shows from the first panels. The pencils/inks by Mike Deodato, Jr. are given an even more horror-comics feel by the colors from Trish Mulvihill. The tone is going to be very different that what we've seen of late – and honestly I'm taking a wait and see on this change of tone – but if you like sci-fi horror, THIS is going to be your place to go.
SUMMARY:
A landmark issue like this is meant to be fun – and it delivers 100%. This 800th issue is the last in the count for now, as we are about to go back to a new number 1…and that makes it somewhat bittersweet. Still, this issue does what it is supposed to do…and does it very well with some of our absolute favorites coming back for one more swing at the Speed Force. I'll give this issue a 10/10. Of course, that's just my opinion – what do YOU think? Leave your comments below!
Share