Today's guest post is by Frank Lee Delano.
Hello, Flash fans! I go by the alias Frank Lee Delano, was voted second most likely to run entirely too many blogs (after Rob Kelly,) and I will be your substitute teacher for the day. For the second year in a row, I'm running a complex and lengthy inter-blog crossover between Thanksgiving and Christmas, in part because I'm a sadistic misanthrope who takes his hatred of the holidays out on my unsuspecting fellow bloggers. The theme this year is Mayfairstivus, a make believe holiday where we celebrate the Mayfair Games Incorporated DC Heroes role-playing system and its many releases. A large part of the blame for this type of event falls on the shoulders of The Irredeemable Shag, who brought me into his own crossover, Crisis on Earth-Blog, almost two years ago, and continues to conspire with me on these dirty dealings. Shag was your guest blogger forMayfairstivus – Celebrating Flash in the DC Heroes RPG, and when I volunteered to write a second post while your regularly scheduled Kelson was tending to his newborn son, Shag offered the advice, "I believe his blog is typically on the positive/up-beat side, so I wouldn't trash Captain Boomerang too much (but that's just me)." As I believe I already established that I am diabolical and make all my promises through crossed fingers, I now present to you Captains Cold and Boomerang, whom I will surely criticize venomously.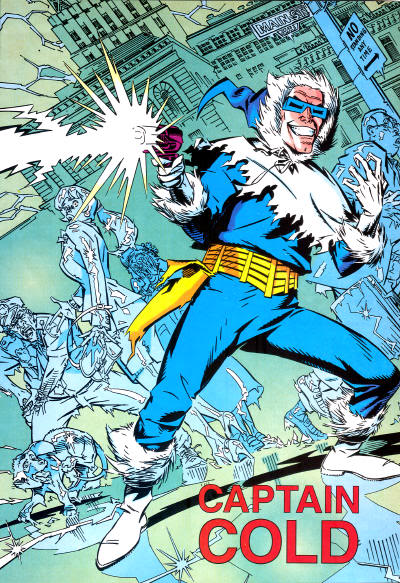 I assume I first became aware of Captain Cold through the Super Friends cartoon show, because that's just what people of my generation did (see also: mustachioed men wearing mirrored aviators and Lacoste polos with skimpy tennis shorts defending original Battlestar Galactica and Buck Rogers in the 25th Century.) As you may or may not be aware, Ape Law* dictates that every super-hero must have an ice-themed villain, so to me Captain Cold was just Mr. Freeze on a budget. It wasn't until John Ostrander wrote Cold into his first Manhunter script as a loser who loved betting baseball that Leonard Snart felt like he had something unique to contribute to the field, as more of a blue collar snow blower. Of course, now Snart is a fan favorite, after taking on a Golden Age attitude toward casual homicide. If you're going to flash freeze some dope in the equivalent of liquid nitrogen, you might as well indulge the bloodlust of Rome by punching the schmuck's head into a pink-tinged flurry, right? So cool, Captain Cold is now the baddest gangsta to wear a fur-lined hoodie.