Big news: DC Comics has launched a digital comics program, starting with the iPad/iPhone and the Playstation network.
And by launched, I mean launched. As in, you can download the app and buy comics right now.
I'm really looking forward to the day when they expand this to more platforms (desktop PCs, Android and Windows–based tablets, etc) and start reaching into their back catalog. I've griped about the lack of Golden Age Flash reprints before, and the Bronze Age is also virtually invisible in reprints (though at least with comics from the 1970s and 1980s, you can usually find the back-issues at a reasonable price).
I haven't had time to read all the interviews, but I'll definitely be reading them tonight: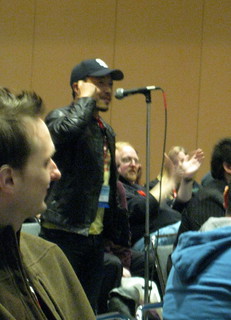 With Jim Lee so heavily involved in this project, I can't help but think of a moment at WonderCon this year. Saturday was the day of the iPad launch, and the Apple Store in San Francisco is just a few blocks from the convention center. Jim Lee was conspicuously missing from the DC Editorial panel. He showed up partway through the panel and stood in the Q&A line, where he planted a few questions…and then pulled out the brand-new iPad that he had stood in line for that morning!
Sadly, judging by ComiXology's new releases, DC hasn't brought Flash to the iPad just yet. But I'm sure it's only a matter of time.
Update: Comics Alliance has another article I won't have time to read just yet, on why this is a big deal.