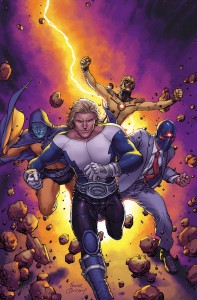 Last year at Comic-Con, DC announced that they had acquired the rights to the T.H.U.N.D.E.R. Agents, a covert team of international super-heroes operating under the authority of the United Nations. The characters were originally published in the late 1960s by Tower Comics, and have been revived several times over the last few decades.
Among the classic members of the team is Lightning: former Special Forces agent Guy Gilbert wears a suit that gives him super-speed…but every time he uses that speed, it ages him.
Today at The Source, DC announced that the new series will launch in November, featuring lead stories by writer Nick Spencer and artist CAFU and backup stories by a team still to be announced. The series will focus on a new team of recruits. Editor will Moss describes it this way:
The new series casts the team as a covert special ops force dealing with global threats the rest of the DCU don't even know exist — all the while struggling with their own choices to become agents and the tortured pasts they're running from. With character-first storytelling and threats exploding from real-world headlines, this relaunch of T.H.U.N.D.E.R. AGENTS will offer something new, different, and daring for both today's broader comics audience and fans of the original team.