Today's guest post is the fourth in a series of interviews by Greg Elias on The Art of Speed.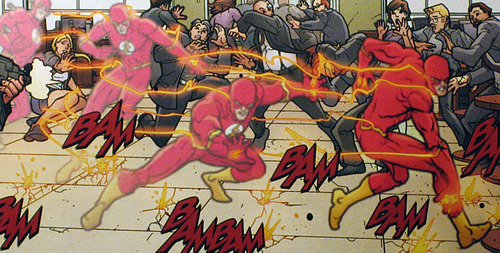 Between stints working the Gotham City beat with Robin, artist Freddie E. Williams II took his talents to Keystone City and the home of the young West family.
First teamed with Mark Waid, Williams hit his stride when Tom Peyer took over as writer.  Ringing in a mind-bending new villain, the wrath of Grodd and the challenges of high-speed fatherhood, Williams and Peyer brought Flash from Keystone to Gorilla City and into the Speed Force.
In addition to his work on Robin, Williams has handled art duties on Seven Soldiers: Mister Miracle, Final Crisis Afterman: Run and JSA All-Stars.  Though his time on Flash interiors ended with issue #246, he contributed the cover to issue #248.
We spoke with Williams via email about his time on Flash, including the design of new villian Spin, the joy of gorillas and learning to love the lightning.  He shared some of his techniques, as well as some original art!