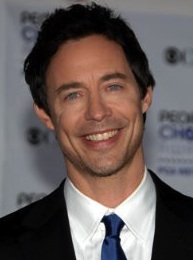 Deadline reports that Tom Cavanaugh (Ed) has been cast as Harrison Wells in the Flash TV show pilot. Wells is an original character*, described as…
a rock star in the world of physics and the mind and money behind Central City's S.T.A.R. Labs Particle Accelerator. He becomes a pariah after the lab's explosion, but he charts his path to redemption when he discovers that his failed experiment had the unintended consequence of creating the world's fastest man.
Also making the rounds, Greg Berlanti talked to Digital Spy about the series, how it has a more sci-fi tone than Arrow, and how Barry and Ollie differ in terms of optimism…and hints a backup plan to keep Barry in the universe even if the series doesn't get picked up.
There's only one high-profile role left to cast before the pilot goes into production in March: Hartley Rathaway, known to comics readers as the Pied Piper.
*As far as I know, anyway. He could be from another DC series, though no one I've talked to recognizes the name.