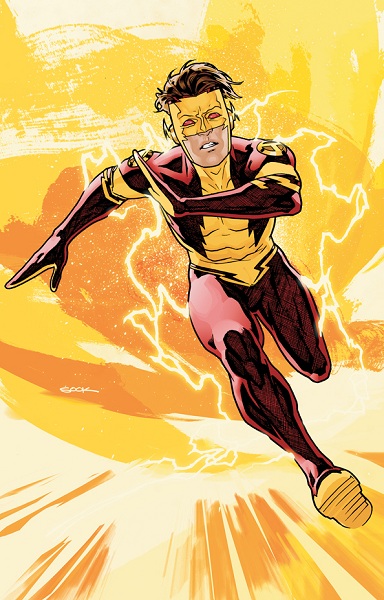 More Flash news from The Source: Kid Flash stars in DCU Presents #12, a solo adventure written by Fabian Nicieza and illustrated by Jorge Jimenez, with a cover by Ryan Sook.
In a special one-shot issue of the fan-favorite anthology series, DC UNIVERSE PRESENTS, Kid Flash will race against time as he deals with the prehistoric trouble the Teen Titans brought back from Mystery Island.

"The Teen Titans survived the Culling and are in for some Prehistoric adventures in both SUPERBOY and TEEN TITANS number tens on the aptly named Mystery Island. And when all is said and done, they will be taking home some souvenirs," editor Eddie Berganza revealed to THE SOURCE. "Helping Kid Flash have a yabba-doo time with the visiting Dino teens (in back-ups in both TEEN TITANS #11 and #12 with a prologue and epilogue that connects to DC PRESENTS #12) are writer Fabian Niceza and artist Jorge Jimenez. As this story unfolds, we will see which species is really set for extinction!"
I'll have to check to be sure, but I think this is Bart Allen's first full-length solo story since the end of Flash: The Fastest Man Alive five years ago, and his first as Kid Flash (not counting the issue of Impulse during "World Without Young Justice" in which he dressed up in one of Wally's old costumes). Bart did have at least one short story in one of DC's Halloween specials as Kid Flash. (IIRC, he was caught in a fight between Mirror Master and Bloody Mary.) Edit: Of course he starred in Flashpoint: Kid Flash Lost just last year.