ABC ran the entire pilot episode for No Ordinary Family today at Comic-Con, followed by a brief Q&A session with Greg Berlanti, John Harman Felman, and stars Michael Chiklis and Julie Benz. It looks promising.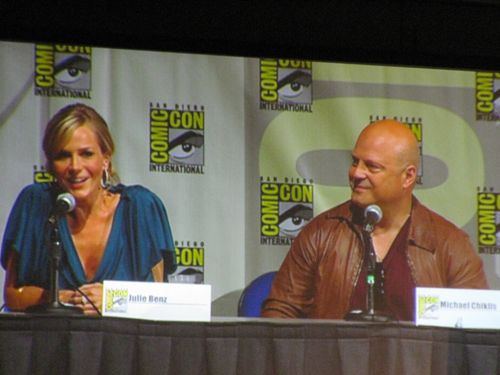 It's a little hard to pin down, genre-wise. It's not a super-hero show, but it has super-powers (and lots of references that comic book readers will catch). It's not really an action show, though there is some action involved. I'd say it's primarily a family drama with comedic and action highlights.
On one hand, there is a bit of an Incredibles vibe to it: It's about a family with super-powers, the father is trying to reclaim his glory days by going out and secretly fighting crime, etc. But it's different enough not to feel like a retread. For one thing, the powers are new, and it's set (like Heroes) in a real-world setting that hasn't seen super-powers before.
The pilot is structured as an interview with flashbacks, first with Jim Powell speaking, then with Stephanie Powell taking over, then switching back and forth. The episode shows the characters and how they relate, then shows each of them discovering their powers, then delves into how those powers affect them. Edit: You do eventually find out who they're talking to.
Sort of like Freshmen, they all gain powers related to their self-perceived shortcomings.