One of the booths I stumbled across at Comic-Con was selling trading cards and books featuring the Union of Superlative Heroes and Order of Nefarious Villains: steampunk characters inspired by certain well-known super-heroes and villains.
I had to pick up a set just for this one: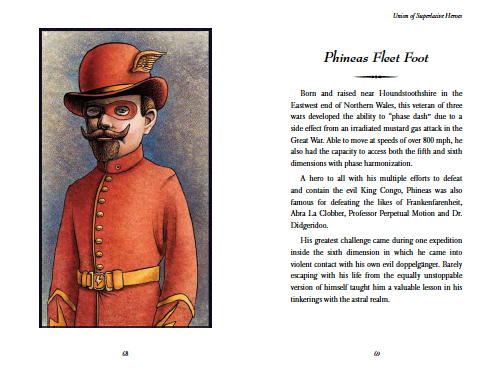 Phineas Fleetfoot, able to run at more than 800mph, phase into the fifth and sixth dimensions, and protect the world from the likes of King Congo, Frankenfahrenheit, Professor Perpetual Motion, Abra Le Clobber, and Dr. Didgeridoo.
The heroes set includes Marquis Le Bat and Duchesse Le Bat, Flatiron Knight, Arachno Kid, the Magic Lantern, Baron von Ocular, and more.
I was sorely tempted by the hand-bound flip book featuring both heroes and villains with additional stories, but couldn't quite bring myself to spend $45 on it. Then I got home, really looked through the cards I'd bought, and regretted missing my chance.
Huzzah for the internet. When the artists got back from the con, they made the remaining stock available through Etsy.
Image c/o Chet Phillips Illustration.