This week features the Kid Flash/Superboy race over in Superboy #5 (preview). Meanwhile, a new speedster villain named Slipstream is introduced in Batgirl #19 (preview).
Superboy #5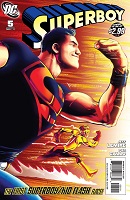 Written by JEFF LEMIRE; Art by PIER GALLO; Cover by EDDY BARROWS & J.P. MAYER; 1:10 Variant cover by FRANCIS MANAPUL
Get ready for the first-ever Superboy/Kid Flash race! Bart Allen may have the speed, but Conner Kent has the power – who will win?! Meanwhile, a dangerous threat is nipping at their heels, one that may mean the end for Superboy, Kid Flash and all of Smallville!

Batgirl #19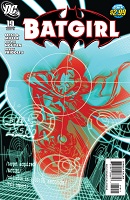 Written by BRYAN Q. MILLER; Art by DUSTIN NGUYEN & DEREK FRIDOLFS; Cover by DUSTIN NGUYEN
Patience may be a virtue, but can Batgirl stand still long enough to stop a super-speedster foe? "The Lesson" continues as the mysterious Order of the Scythe unleashes its first weapon in their war on Batgirl – Slipstream!