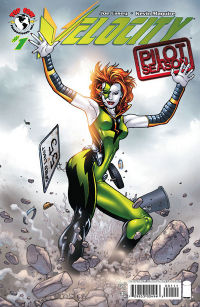 Velocity, the speedster from Top Cow's CyberForce and one of the two winners of 2007's Pilot Season*, will be getting her own series in November. CBR spoke with artist ChrisCross this weekend at Wizard World Chicago, where the company announced he would be joining writer Joe Casey on the series.
Among other things, the artist talked about adjusting the heroine's costume:
ChrisCross has also re-imagined Velocity herself, which he said has as much to do with Casey's influence as it does with his own. "I retooled her hair and her uniform a bit, and gave her some real shoes for running," ChrisCross said. "I don't know how Flash was able to run that fast in those hideous boots. Now, Velocity, her sneaks are fierce, girlfriend!" [emphasis added]
Velocity made her debut in Cyberforce v.2 #1 (1993). In addition to her Pilot Season special, she headlined a 3-issue minseries in 1995.
Update: ChrisCross has posted some of his character study work.
*The idea behind Pilot Season: Produce one-shots for several different characters, and have fans vote on which get ongoing series. It was successful enough that Top Cow has launched a second round this year.
Share