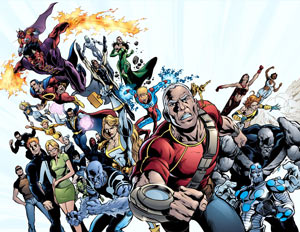 Noble Causes ends in a few months with issue #40. Apparently the "Five Years Later" relaunch didn't bring in many new readers, and on top of that, series writer and co-creator Jay Faerber "started feeling like [he] didn't have much else to say about the characters."
It's disappointing news, but hey, it's always better to leave on a high note than fade into obscurity. And it's been a pretty solid run: three 4-issue miniseries, two specials, and a 40-issue ongoing.
Noble Causes is about a super-hero team as a dysfunctional family. There are elements of the Fantastic Four, but with personal secrets, double-crossing, affairs, family feuds, cover-ups, and celebrity scandals. The series initially focused on Liz Donnelly-Noble, an ordinary woman who married the family's resident speedster, Race Noble, and found herself immersed in their bizarre world. (Every once in a while there are some interesting Wally/Linda parallels.) Over time, the scope broadened. A few months ago, the story jumped forward in time five years, and the former viewpoint character has been conspicuously absent.
If you only know Jay Faerber from his disastrous run on The Titans, it's worth taking a look at some of his creator-owned books. The first Dynamo 5 trade is a good introduction to that team (and it's pretty cheap), and Gemini is only two issues into a five-issue miniseries.
Share