Flash #243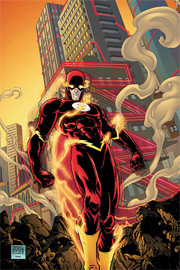 The conclusion of "Fast Money"! The Flash returns to Keystone, making some bold moves to get his life and reputation back on track – with some serious consequences for his family!
Written by Tom Peyer; Art and Cover by Freddie E. Williams II
Note: This is Tom Peyer's and Freddie Williams II's final issue before Alan Burnett and Paco Diaz take over for a 4-issue arc. Aftet that, the series goes on hold for Flash: Rebirth. Personally, I felt that Peyer and Williams finally "got" the book and would have made a good long-term creative team, but it's clear from sales figures that a lot of readers either didn't like their take, disliked the Flash Family concept, or had already dropped the book and didn't want to pick it up again.
Williams is returning to Robin, while Peyer moves on to Galveston and Marvel Apes.

Final Crisis: Legion of Three Worlds #1 of 5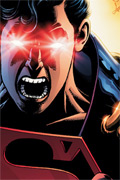 From the moment Kal-El landed on earth until the end of time, the Time Trapper has sought to erase Superman's impact on the universe. But the Legion of Super-Heroes have always been there to stop him. This time, though, even the Legion won't be enough. The Time Trapper has found the ultimate weapon to carry out his plan – a twisted mirror image of the boy of steel from a parallel Earth long dead: Superboy-Prime! Who will answer the Legion's call for help? Find out here as the Crisis of the 31st century begins!
Written by Geoff Johns; Art by George Pérez and Scott Koblish; Covers by George Pérez
Notes: Barry's granddaughter, XS has been confirmed as having a "major role" in the series. It's also been very strongly implied that this mini will feature the return of Bart Allen.

Justice League of America #24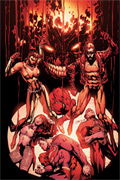 » View Larger Image
Vixen's power issues come to the forefront as Vixen, Black Canary, Zatanna, Hal and The Flash pay a visit to Animal Man. The team must team up with Animal Man to battle a new Justice League villain – and at stake is control of the Tantu Totem!
Written by Dwayne McDuffie; Art and Cover by Ed Benes

Tangent: Superman's Reign #6 of 12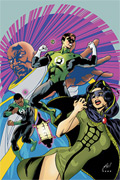 The secret protector of the Tangent Earth's band of freedom fighters is revealed! And when the Tangent Superman learns the secret to traveling between worlds, the battle between the Supermen of two worlds begins!
Written by Dan Jurgens ; Art by Jamal Igle and Robin Riggs; Cover by Matt Haley
Notes: I've been having fun reading this series. Admittedly, it's in part because I have fond memories of the original Tangent books from 1997 and 1998, but simple nostalgia isn't enough — witness the Captain Carrot mini from last year and several incarnations of the Titans. It has to be good, and this series has been. I'd definitely recommend it, or the three volumes that collect the original stories. More info: Flash (Earth-Tangent).
Share