Friday Night Lists is running a list of the 15 Most Expensive Comic Books, and a copy of Flash Comics #1 — specifically the Mile High pedigree copy rated CGC NM+ 9.6 — ranks at #5, valued at an estimated $274,000.
As recently as 2006, it was estimated at "only" 250,000. That's still a bit out of my price range, though. I think I'll stick with my $35 copy of The Golden Age Flash Archives Vol. 1 for now.
The post also says that the "milestone issue is currently ranked as the eighth most valuable comic book of all." I'm not entirely sure how that fits with the ranking at #5 in the list.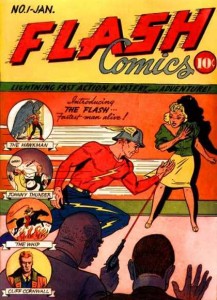 Share