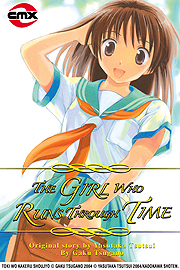 Looking at this weeks new releases, I noticed the CMX manga title, The Girl Who Runs Through Time by Gaku Tsugano. From the description, it sounds like the character's origin may have been inspired by the Flash:
Kazuko is a high school senior who has no idea what she wants to do in the future. Alone one day after school, she discovers a broken beaker in the science lab. She smells something sweet in the air, passes out, and finds herself transported back to her own past! Will Kazuko use her ability to travel through time wisely or selfishly?
Fumes from a broken beaker in a school science lab? Sounds like Jay Garrick's origin to me! Time travel by running? Positively Flashy! (Though it looks like the "running" is actually metaphorical.)
The manga appears to be based on a 1976 Japanese novel, The Girl Who Could Run Through Time by Yasutaka Tsutsui. According to Wikipedia, it's been adapted to many media including at least two live-action films, an anime, and two TV series. To make matters more confusing, there's a manga adaptation of the anime (The Girl Who Leapt Through Time) in addition to this manga adaptation of the book.
The Girl Who Runs Through Time is a 2-parter, with Volume 1 out this week and Volume 2 coming in November.
Share