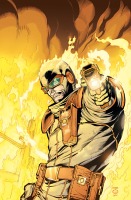 In January, DC's villains will take over the entire line for Faces of Evil. Each regular DC title will spotlight a villain for the month — much like the Rogue Profiles that Geoff Johns did during his run on The Flash, or the "New Year's Evil" specials from 1998. The project was inspired* by the de-motivational posters DC has been running this year, and by the Final Crisis slogan, "The Day Evil Won."
This might explain why December's Flash #247, the conclusion of "This Was Your Life, Wally West," was not solicited as the final issue of the series even though we know the book will stop for Flash: Rebirth. Even if Rebirth starts right on time in January, they could still run a one-shot focusing on, say, Zoom. Though I'd rather see a villain who hasn't already had a spotlight issue in recent years.
Of course, I'm still holding out for the book to reach #250. So few series reach that milestone, and it would be sad for it to stop two issues short.
*Cynically, it occurs to me that this allows an extra month to finish Final Crisis before the entire line shifts from just before to just after the world-changing event.
Share