It's a big Flash week, with both Flash #245 and Final Crisis: Rogues' Revenge hitting the stores.
Final Crisis: Rogues' Revenge #3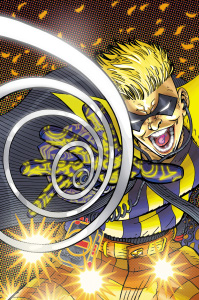 Written by Geoff Johns; Art and Covers by Scott Kolins
Captain Cold and the Rogues only want one thing – revenge. But with the Secret Society hitting the Rogues where it hurts, that revenge is being kept at an arm's length. Not to mention, the subject of their revenge is now under Libra's protection. It's do or die time for the Rogues as this villainous mini-series concludes! Plus, what's up with…Barry Allen?
40pg. | Color | $3.99 US
Note: This miniseries has been excellent. You can read my reviews of issue #1 and issue #2 here.

Flash #245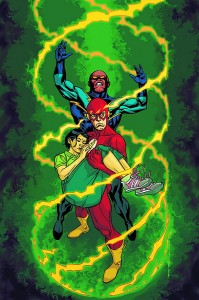 Written by Alan Burnett; Art by Paco Diaz and Drew Geraci; Cover by Brian Stelfreeze
Flash learns that nothing is safe anymore as Queen Bee causes an attack on his house and Linda. Guest-starring Black Lightning!
32pg. | Color | $2.99 US
Note: Rather than being a lame-duck arc, the first issue of this storyline was surprisingly good. With any luck, that will continue.

Team books and more after the cut.
Team Books
Justice Society of America #19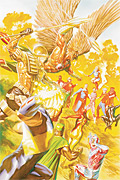 Written by Geoff Johns and Alex Ross;Pencil art and variant cover by Dale Eaglesham; Cover by Alex Ross
"One World, Under Gog" continues! The Justice Society begins to dissolve as Gog vows to bring peace to Earth…in a way that frightens some and thrills others. But with Hawkman around, it's not going to be a simple debate. Plus, Starman reveals his concerns about the team's future to Mr. Terrific while Power Girl struggles to come to terms with her greatest desire!
32pg. | Color | $2.99 US

The Titans #6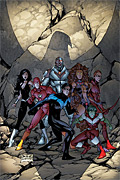 Written by Judd Winick; Art by Julian Lopez and Prentis Rollins; Cover by Joe Benitez and Victor Llamas
Raven is missing, and the Titans must truly come together as a team in order to save her. Their fragile unity is further threatened, though, when they discover what they're really up against! And, as if the Titans didn't have enough on their hands, an old member resurfaces and brings along an unexpected threat that no one could've seen coming!
32pg. | Color | $2.99 US

Collections
LA: That Was Now, This is Then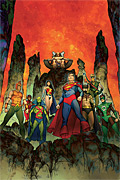 Written by Roger Stern; Art by John Byrne and Mark Farmer; Cover by Joshua Middleton
The classic creative team of Roger Stern and John Byrne reunite for this tale from JLA Classified #50-54! The Justice League faces a foe who's out for revenge – but The World's Greatest Super Heroes have no record of ever battling him before!
128pg. | Color | Softcover | $14.99 US
Note: I keep seeing this listed as "JLA: That Was Then, This Is Now" — the standard form of the phrase. Even the GCD listings for the original issues is inconsistent, with both forms listed. I'd guess the title was probably a deliberate reversal.

Possibilities
More books out this week that might feature a Flash:
Share