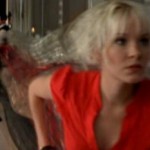 Access Hollywood writes about "rising star" Brea Grant, who plays speedster Daphne Millbrook on Heroes. While it had previously been reported that she prepared for her role by reading a box of Flash comics, it turns out it wasn't just research: she's a self-professed geek.
Brea is so much of a fan, that she attended this summer's San Diego Comic-Con as a regular fan of the genre and caused quite a stir on the convention floor when other fans who were treated to a sneak peak of the new season of "Heroes" recognized the actress — something Brea got a kick out of.
They also ask the fluff question of which super-hero she'd want to date (No one asks the guys this kind of question, do they? Do reporters ask Milo Ventimiglia, "Which superheroine would you date?"), and the Flash does make her list, even though "he wasn't always a good boyfriend." Judging by Wally West's track record, it's pretty clear which Flash she's talking about.
Share