This week sees the long-awaited release of the trade paperback of Final Crisis: Rogues' Revenge. (The hardcover came out almost exactly a year ago.)
Final Crisis: Rogues' Revenge TPB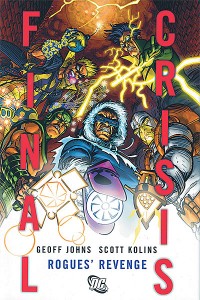 Written by GEOFF JOHNS • Art and cover by SCOTT KOLINS
The Flash Rogues Gallery has had enough. The team of villains is ready to remind the world why they're not to be messed with in this title collecting their return in FINAL CRISIS: ROGUES' REVENGE #1-3 as well as stories from THE FLASH #182 and #197.
Notes: I like to think of this book as "Rogues: Rebirth." The main reason it exists is so that Geoff Johns can correct the way the Rogues were portrayed during Countdown and say, "No, this is how the Rogues work!" The additional stories are spotlights on Captain Cold and Zoom.
I had just started writing reviews when the original miniseries came out. You can read them here:
Buy it at your local comic shop this week, at Comic-Con over the weekend, or order it from Amazon for next week.
Other Likely Flash Appearances
DC Universe: Legacies #3 catches up to the original Justice League era
Justice Society of America #41
Tiny Titans #30