DC has been handing out plastic Flash rings at conventions this year. Sadly, I managed to miss the relevant panel at San Diego (IIRC it was the Geoff Johns panel, and it conflicted with Robert J. Sawyer), and I never managed to hit the DC booth at the times they were giving them out either.
Johanna Draper Carlson of Comics Worth Reading was kind enough to send me an extra that she picked up at Baltimore Comic Con.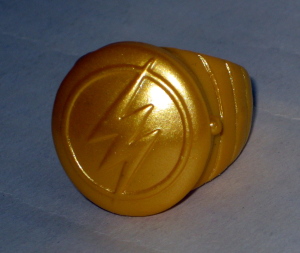 As you can see, it's just plain yellow plastic, but it's sculpted. Try as I might, though, no matter how many times I hit that button on the side, it didn't open up to release a costume. 😀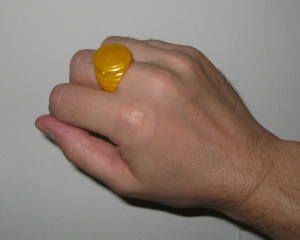 Actually, I do have a Flash ring with a miniature costume somewhere in storage. DC Direct released a replica Flash ring with a stand. It's held open slightly so that you can see the costume inside. Rather than hunting through storage, I searched online and ganked the first photo I found, from Planet Krypton.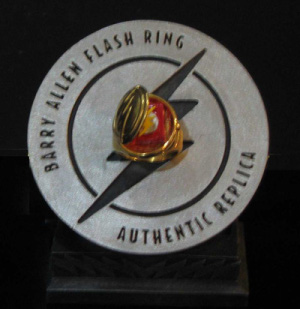 Share