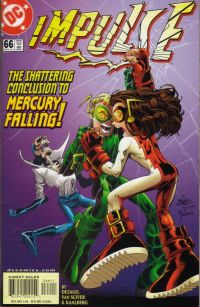 Collected Editions has obtained DC's advance TPB solicitations for Fall 2009, including a big surprise in speedster collections:
The Flash (featuring Impulse): Mercury Falling
It's been years since any of Impulse was collected (Impulse: Reckless Youth
), and that was only the first few issues. Mercury Falling, which ran from Impulse #62-66, was the major epic from the Todd Dezago/Ethan Van Sciver run on the book, and featured Inertia's master plan, Max Mercury facing almost certain death, and Bart being forced to confront the fact that his mentor and guardian might not be around much longer, while desperately trying to find a way to save him.
It actually ties in quite well thematically with the recent stories in Flash and Rogues' Revenge.
The title is a bit odd, considering that the Flash doesn't appear in the story at all (that I remember), but it follows the same pattern as other recent collections of lesser-known characters, like JSA Presents: Stars and S.T.R.I.P.E. Get the main franchise with the recognized name out there first, then add the original title of the book.
Update: Amazon now lists this as being released on May 12, 2009.
Share