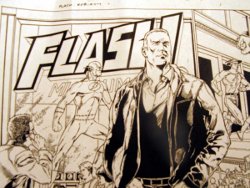 Flash: Rebirth artist Ethan Van Sciver's latest Your Time is Now Mine column features, as promised last week, a sneak peek at the miniseries' artwork.
Hmm, looks like Barry Allen visiting the Flash Museum in his secret identity.
Click through for a larger image and lots of random commentary.
Flash: Rebirth #1 of 6 ships in April 2009.
Share