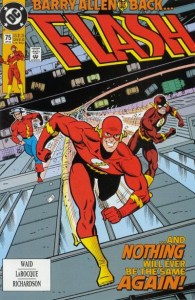 It's the eternal question among fans. Who's faster, Flash or Superman? (Answer: Flash, just barely.) Who would win in a fight, Wolverine or Batman? And of course, which Flash is faster? Wally West? Barry Allen? Jay Garrick? Bart Allen?
The truth is that which Flash is fastest changes over time, but there's an easy pattern to follow: unless he's been deliberately de-powered, whoever headlines the current series is the fastest Flash. After all, why focus on the second-fastest man alive?
When Jay Garrick was the one and only Flash around, he was, of course, the fastest man on Earth. When Barry Allen burst onto the scene, Jay was a little older, and had slowed down. So Barry was faster. When Wally West first took over as the Flash, he'd been pushed down to near the speed of sound…but as he kept going, breaking through his psychological blocks and eventually learning about the speed force, he reached that #1 rank. Then during Bart Allen's brief tenure as the Flash, he absorbed the speed force and became not just the fastest man alive, but the fastest man who had ever lived.
All signs point to Barry Allen being the star of the Flash series that's sure to spin out of The Flash: Rebirth. No doubt once the dust settles, he'll once again be the Fastest Man Alive — and even faster than his fellow Scarlet Speedsters.
Until the next relaunch, of course…
Share