Head over to Speedster Site for a round-up of Ethan Van Sciver answering Flash: Rebirth questions!
Also, Newsarama has posted a preview of DC's May 2009 solicitations, including Flash: Rebirth #2:
The Flash: Rebirth #2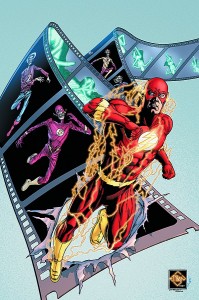 Written by Geoff Johns
Art by Ethan Van Sciver
Covers by Ethan Van Sciver
What's happened to the Speed Force? One of the world's most powerful speedsters is dead, and Barry Allen must discover who – or what – is responsible! But the reborn Barry is a man haunted by a dark secret in his past. A secret that drives him to push far beyond his limits. A burden that, if he's not careful, could send him right back into oblivion! Geoff Johns and Ethan Van Sciver's reinvention of the Scarlet Speedster picks up the pace – we dare you to keep up!
Retailers please note: This issue will ship with two covers. For every 25 copies of the Standard Edition (with a cover by Ethan Van Sciver), retailers may order one copy of the Variant Edition (with a cover by Ethan Van Sciver). Please see the Previews Order Form for more information.
On sale May 6 • 2 of 5 • 32 pg, FC, $2.99 US
Share