Newsarama is running a poll on the best price point for downloadable comics, following up on Filip Sablik's recent column. Is it free? 99¢ per comic, like iTunes? Subscription bundling?
The problem is that I can't pick an option on the poll, because for me, it really depends on the device.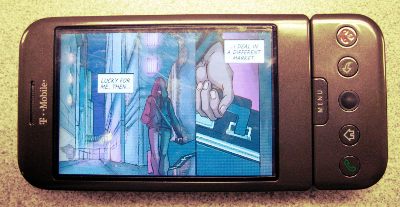 If we're talking comics chopped up for small-screen viewing (iPhone, for instance), then I would prefer free with ads. Unless a story is initially designed for that format, it seems more like a way to sample new series — something iVerse is clearly targeting with their current Android material, offering most first issues for free and then charging for the subsequent ones.
If we're talking the hypothetical tablet-sized device that displays comics at a comparable size to present-day print comics, then I'd be a bit more willing to pay $0.99 off the bat, or possibly a $5.00/month subscription for more than 5 books.
If we're talking downloadable comics to display on the desktop computer screen…now that I think about it, probably free. I read a lot of webcomics, but I've never once paid for a subscription even to gain access to archives. (I have, however, donated to a few cartoonists, and bought print collections of several series.)
So… how much would you pay for digital comics?
Share