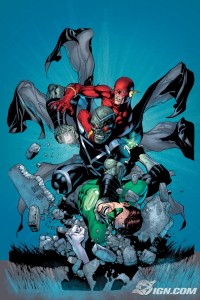 It looks like the Flash will be more heavily involved in this summer's epic gigantic crossover event Blackest Night than previously suspected. We knew that Barry Allen would co-star in Blackest Night #0, this year's Free Comic Book Day (May 2) entry. We learned recently that there will be a 3-issue Blackest Night: The Flash miniseries during the second half of the event. Now IGN has the solicitations for the first month of Blackest Night comics, and it looks like he'll be guest-starring in the Green Lantern issues that comprise the event as well.
Green Lantern #44 (July 22)

"Blackest Night" continues! As Hal Jordan and Barry Allen investigate a bizarre crime in Gotham City, they come face to face with one of their oldest allies – J'onn J'onzz, the Martian Manhunter! But their old friend is not there for reunions; he's come for much more. Meanwhile, Sinestro seeks to rebuild his army and take his revenge on the being who would usurp it – Mongul!
Share