It's a big week! After months of delays, Final Crisis: Legion of Three Worlds #4 finally comes out, showing the return of Bart Allen. (He actually showed up at the end of #3). Geoff Johns' last issue of Justice Society of America also comes out, as does the third part of the big Titans crossover, "Deathtrap." Rounding the week out is the second printing of Flash: Rebirth #1, which sold out at the beginning of the month. Issue #2 comes out next week.
Final Crisis: Legion of Three Worlds #4

Written by Geoff Johns.
Art by George Pérez & Scott Koblish.
Covers by George Pérez
Don't miss this issue as lightning strikes again in the DC Universe! The Crisis of the 31st century continues as a great hero falls and another returns to help Superman and the Legion combat the murderous Superboy-Prime! Meanwhile, the Time Trapper makes his move against the three Legion founders, Polar Boy's bizarre mission comes to an end and Superman makes a shocking discovery that will redefine the terms of this war.
Notes: It's finally coming out! Also, we saw Bart Allen return to life as Kid Flash at the end of issue #3, so with any luck, this issue will shed a little light on why he's a teenager again.

Justice Society of America #26
Written by Geoff Johns
Art by Dale Eaglesham & Nathan Massengill
Covers by Alex Ross
Featuring three painted covers by Alex Ross depicting the entire Justice Society of America! In a very special day-in-the-life story of the JSA titled "Black Adam Ruined My Birthday," the team celebrates the birthday of one of their own — Stargirl! Don't miss this momentous issue.
Retailers please note: This issue will ship with three covers by Alex Ross that can be ordered separately. Please see the Previews Order Form for more information.
32 pg, FC, $2.99 US

Teen Titans #70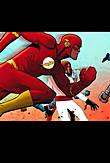 Written by Sean McKeever
Art by Joe Bennett & Jack Jadson
Cover by Andrew Robinson
"Deathtrap" Part 3 of 5! Straight from the pages of Vigilante #5, the team gets roped into Jericho's insane plot to take out both Titans teams. But how can they fight back against a menace who can possess their bodies? Continued in Titans #13, on sale in May!
32 pg, FC, $2.99 US

The Flash: Rebirth #1 (Second Printing)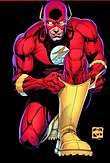 Written by Geoff Johns
Art and covers by Ethan Van Sciver
Through the decades, many heroes have taken the mantle of The Flash, but they all ride the lightning that crackles in the wake of the greatest hero the DC Universe has ever known, the man who sacrificed himself to save the Multiverse: Barry Allen!
Following the events of Final Crisis, Barry has beaten death and returned to a fast-paced world that a man out of time wouldn't recognize. Or is it a world that is only just now catching up? All the running he's done before was just a warmup for the high-speed race that he and every other Flash must now run, because even though one speedster might have beaten death, another has just turned up dead! From Geoff Johns and Ethan Van Sciver, the visionaries responsible for the blockbuster Green Lantern: Rebirth and The Sinestro Corps War, comes the start of an explosive and jaw-dropping epic that will reintroduce to the modern age the hero who single-handedly birthed the Silver Age of comics! DC history will be made, and the Flash legacy will be redefined!
1 of 5 · 40 pg, FC, $3.99 US
Notes: I've talked about this at length (as has just about everyone else!). Check out my review of the issue, or contribute to the open speculation thread.

As usual, there's a possibility that a Flash will show up in Trinity.
Share