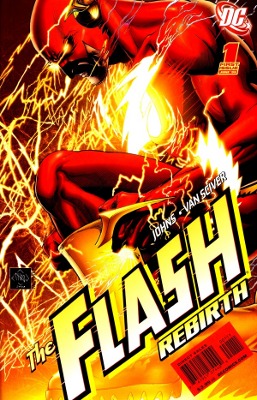 Now that I've had time to read it through a second time, Geoff Johns & Ethan Van Sciver's Flash: Rebirth #1 didn't bowl me over quite as much as it did on the first read-through, but it still won this Wally fan over at least for the duration of the miniseries. Some things bothered me more this time through, and ironically enough, it's actually pretty slow for a book about speed.
On the other hand, it's much faster-paced than Flash: The Fastest Man Alive #1 or Flash vol.2 #231, the first issues of the 2006 relaunch with Bart Allen and the 2007 relaunch with Wally West.
The book opens with a scene that starts out looking like a retelling of Barry Allen's origin, but quickly becomes apparent that it's taking place in the present day with someone trying to recreate the circumstances of the lightning strike that turned a police scientist into the Flash. After that foreboding opening, it moves onto the main segment of the book: introducing all the characters and the key concept of the speed force.
Oddly enough, everyone is introduced separately: Barry, Wally, Bart, Jay Garrick, and Barry's wife Iris are all in different places. Jay is preparing for a welcome-back party with the Justice Society, Wally with the Titans, Bart with the Teen Titans, and Iris is setting up for a family dinner, while Barry visits the Flash Museum (a mainstay of the series since the Silver Age) to catch up and runs into Hal Jordan. So they all talk about Barry, and how they relate to him and each other, but you don't actually see them interacting.
Within this framework, Johns and Van Sciver touch on the nature of Central City and Keystone City, the way they appreciate their native super-heroes, a number of the villains who populate the Twin Cities, and even address the Wally/Barry/Bart debates (Jay is so often left out) that thrive on the internet.
Near the end, Barry suits up, flashes back to a traumatic childhood memory, and the real threat makes its appearance.
Things I Liked
Flash: Rebirth #1 followed the golden rule for a chapter that's mostly setup: Open with an exciting hook, and finish with an exciting cliffhanger. (Come to think of it, Flash:TFMA #1 and Flash v.2 #231 tried to follow this structure, but didn't work as well.) By the end of the issue, you know key elements of Barry Allen's personality, what his powers are, see him in action, and have a sense of the threat he'll be facing, even if that threat's identity and nature are still mysterious.
Referencing Barry's lab accident right at the beginning is a good way to start things off, and the villain introduced is suitably creepy.
The art is (not surprisingly) excellent. Barry looks like a modern American man, not a refugee from the 1950s (the sliding timeline of comics means he's only been gone for maybe 5-10 years). Bart putting up his own "Welcome back Bart" banners was classic Impulse.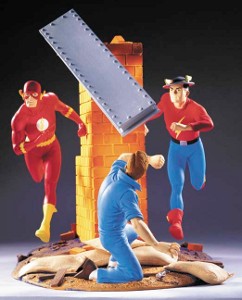 There were tons of "Easter eggs" for long-term readers among the celebration and museum scenes. The "Flash of Two Worlds" image made not one but two appearances, once as a parade float (looking very much like a mini-statue that DC released about 10 years ago) and once in Jay's flashback. Logos from various comics appeared on museum banners. At one point Barry races past a series of covers and splash pages from Wally's series. Wally's and Barry's hometowns (Blue Valley, Nebraska and Fallville, Iowa) are both mentioned. And even Barry's old boss Captain Frye gets a nod.
I really liked turning the crack in the Liberty Bell emblem on Liberty Belle's costume into the beginning of a lightning bolt.
[Edit:] Linda's a reporter again.
The lead character appeared in costume in the first issue, and tried to do something heroic.
And a couple of speedsters I really didn't expect to see again showed up.
Things I Didn't Like
Some parts seemed a bit too familiar. The opening reminded me a bit too much of "Blood Will Run" (Geoff Johns' first story arc as the regular Flash writer), for instance.
It was also kind of strange watching internet arguments played out on the page with Barry, Bart and Hal taking up different viewpoints. It really took me out of the story, though that might be in part because I've seen (and, I must admit, participated in) these arguments online over the past year.
In particular, Bart's antipathy seemed at odds with the feelings he's displayed about his grandfather in the past, but in this case I think they've earned it with his remark, "Why's Barry the only one that escaped the speed force?" That, to me, makes it clear that Bart isn't upset that Barry's back so much as he's upset that Max isn't.
There were a few places that the art bugged me. Wally's children looked too young (they're supposed to be roughly 8 and 10, physically, but look like they're closer to 6), and Green Lantern Alan Scott looks almost sinister in the one panel in which he appears.
[Edit:] No sign of Linda except for a voiceover, and Liberty Belle, one-time Flash heir-apparent Jesse Quick, is reduced to background scenery. (Though at least she's acknowledged as a speedster.)
What really bothered me was a major retcon to Barry's past that completely changes the character of his family life, which I'll go into below after the spoiler break.
Spoilers ahead!
.
.
SPOILER WARNING
.
.
Near the end of the issue, Barry flashes back to a childhood memory in which he comes home and finds the police at his house, his mother dead, and his father being led away in handcuffs, ending with him running after the police car and being unable to catch it.
It seems that Geoff Johns is trying to give Barry Allen a traumatic backstory to set up his career in law enforcement, and his obsession with running. I really don't like this for a number of reasons.
First, one thing that makes Barry unusual among today's heroes is that he doesn't — or, rather, didn't — owe his super-heroics to any sort of trauma. He became a super-hero because, when he gained powers, he just felt like the right thing to do was to help people.
Second, it's way too similar to the backstory established for Hunter Zolomon, a.k.a. Zoom, whose career in law enforcement was spurred by a desire to find out why his father killed his mother.
Third, it's a huge change to Barry's character. This is actually more of a change than the post-Crisis on Infinite Earths retconning of Wally's childhood from Norman Rockwell perfection to dysfunctional and emotionally abusive. It's more of a change than introducing a separated-at-birth evil twin. It's like changing Superman so that Ma and Pa Kent died when he was a child, or changing Batman so that his parents weren't killed in that alley. (And then there's the fact that Barry's parents appeared alive throughout the Silver and Bronze ages, including in stories that Geoff Johns himself referenced recently.)
I did a whirlwind tour of message boards this afternoon, and someone [Edit: I think it was Lia] suggested that it might be a false memory picked up from other speedsters, in which case the similarity to Zoom's origin makes more sense. We'll see.
[Edit:] I also didn't like that they brought Savitar back for two pages just to kill him again. He had serious potential as one of those villains who shows up only occasionally, but for really big stories.
Mysteries
There are three big mysteries set up in this issue.
Who is the villain recreating Barry's origin? The lightning-shaped blade reminds me of Cicada, a Flash-obsesed cultist. The Barry fixation reminds me of Malcom Thawne (Cobalt Blue — yes, I went there) or Eobard Thawne (Professor Zoom). The chemistry knowledge reminds me of the Rival, whom Geoff Johns plucked from a 50-year absence to bring back in the pages of JSA. He could be any of these, or he could be someone we haven't seen before.
Why did he bring Barry back? Or is he just giving himself too much credit, the way villains often do?
What killed Savitar and the Black Flash and zapped Jay, Wally, Jesse and Bart? How did Savitar escape in the first place? And just how can you kill a personification of Death? It certainly looks like something's gone wrong with he speed force.
Actually, there is one more, lesser mystery: How did Captain Frye know that Barry was back?
Conclusion
I've been half-dreading, half-anticipating this miniseries for nearly a year now. And while I still don't know whether I'll want to pick up the post-Rebirth relaunch, I definitely want to keep reading this miniseries. Geoff Johns has said that he wants to write a Flash who's all about speed. Let's see what he can do.
See also:
Share