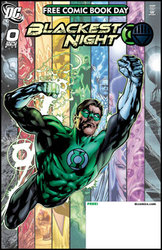 I took a quick look at a site where people were discussing scans of a few pages of Blackest Night #0, one of DC's offerings for Free Comic Book Day. While there I noticed a discussion as to why this continuity-heavy lead-in to the big 2009 event was not suitable for a new reader who has just wandered into a comic store for the first time (or the first time in several years) to check out the free stuff (that being the primary purpose of FCBD).
Here's the thing: I don't think it's intended for that audience.
I think DC has realized that Free Comic Book Day brings in a lot of regular comics readers looking for something free, like a sale, and they're going after that audience. This isn't aimed at people who have never read a comic book. It's aimed at people who are at least somewhat familiar with DC Comics but maybe haven't been reading Green Lantern and need a primer for the multiple Corps and the Blackest Night prophecy so that they can jump into the event. It's aimed at people who read some DC Comics, but weren't planning on picking up the next big event, but hey, since this one's free, why not take a look?
And given that it sounds like DC's entire line is going to be involved in this event over the next 8 months or so, it still works as an introduction to their output.
Share