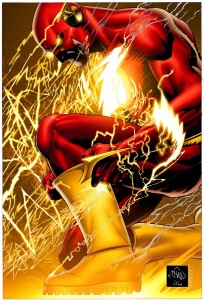 The Hollywood Reporter has a run-down of upcoming DC movie adaptations.
This past fall, Warners quietly hired three of DC's biggest writers — Geoff Johns, Grant Morrison and Marv Wolfman — to act as consultants and writers for its superhero line of movies. The move involved taking back the reins on projects being handled by such producers as Charles Roven ("The Flash") and Akiva Goldsman ("Teen Titans").
Hmm, remember how Grant Morrison couldn't talk about a Flash movie? It goes on:
The moves have begun to pay off. Johns worked up a new treatment for a "Flash" script, being written by Dan Mazeau; Johns will act in a producer capacity on the project, which has not attached a director.
We'd heard rumors about the Dan Mazeau script before, but nothing official.
But a Geoff Johns story treatment — and producer credit? That should make a lot of Flash fans happy. Not only does Johns have a well-regarded and successful run on The Flash from the first half of this decade, he also has the high-profile Flash: Rebirth.
I wonder if we were all looking in the wrong direction. Maybe this is the Flash news that Geoff Johns was hinting at last week.
I wonder if this counts as a Cue Cullen moment?
(via Newsarama by way of @onceuponageek. More discussion at Major Spoilers, CBR, Slashfilm, Screen Rant, and MTV Splash Page.)
Share