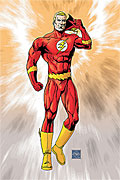 Wow. Comic Bloc's SNW1 has been checking more often than I have (or at least has better timing), because he spotted this: DC's website now lists March 24, 2010 as the release date for Flash: Rebirth #6.
Think about that for a moment. Let that sink in. Assuming no further schedule changes (and so far, Blackest Night: Flash hasn't changed), this means:
Blackest Night: The Flash will finish a month before Flash: Rebirth does.
Flash: Rebirth will have spanned just one week less than 52 did.
There's a good chance that Flash Secret Files will also be out by the time Flash: Rebirth finishes. (Presumably we'll find out on Monday when DC's March solicitations go up.)
That April date for the Flash: Rebirth hardcover is looking mighty optimistic.
The book will be out one week before WonderCon, for which EVS is drawing the program cover/T-shirt (Edit: this was posted just two days ago).
On the plus side, those of us who were hoping The Flash might launch immediately after Rebirth's conclusion might actually get our wish.
It's worth noting that 4 people out of 106 did vote for March 2010 in the When Will Flash: Rebirth Finish? poll last month.
Update (Dec 20): The book may be coming out sooner than March after all.
Update 2: It's been rescheduled to February 24, 2010.
Share