Flash appearances in new comics this week…
Blackest Night: The Flash #3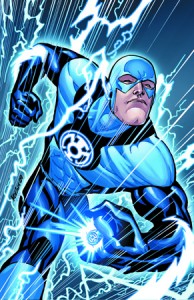 Written by Geoff Johns
Art and cover by Scott Kolins
Variant cover by Francis Manapul
It's a case of the chicken-or-the-egg as Barry Allen takes on the Black Lantern Reverse-Flash and seeks answers to the very nature of Professor Zoom's impending resurrection. Plus, the Rogues witness an act so horrifying that it changes one of their own forever.
This issue will ship with two covers. For every 25 copies of the Standard Edition (with a cover by Scott Kolins), retailers may order one copy of the Variant Edition (with a cover by Francis Manapul).
3 of 3 · 32 pg, FC, $2.99 US
Update: IGN has posted a 5-page preview.


Tiny Titans #25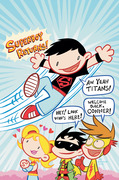 Written by Art Baltazar, Franco & Geoff Johns Art and cover by Art Baltazar
Special guest co-writer Geoff Johns comes to TINY TITANS, and he's bringing Superboy along with him! And Superboy's bringing his bizarro brother Match! And Match… well, Match always brings mischief wherever he goes. Join us for an extra-super issue jam-packed with colored rings and awesome things!
32 pg, FC, $2.50 US

DC Universe: Origins TP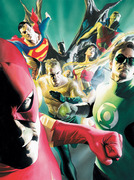 Written by Mark Waid, Scott Beatty and Len Wein
Art by various
Cover by Alex Ross
Collecting the origins of over fifty characters from Animal Man to Zatanna, including Batman, Wonder Woman, The Joker and many more, from DC's hit weekly series 52 and COUNTDOWN TO FINAL CRISIS as well as several first seen online, featuring the work of some of comics' top talents!
144 pg, FC, $14.99 US

Note: It's interesting to have Flash right there at the front, since neither 52 nor Countdown told any of their origins! Though if I'm not mistaken, this is reused from some other piece.
Final Crisis Aftermath: Dance TP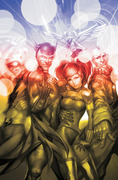 Written by Joe Casey
Art by ChrisCross, Eduardo Pansica, Rob Stull and others
Cover by Stanley "Artgerm" Lau
Japan's Super Young Team just wants to be seen as heroes by their adoring public in this title collecting the 6-issue miniseries. Unfortunately, their part in FINAL CRISIS went unnoticed, and they've been reduced to performing at public appearances and on TV. Now, intense media scrutiny and a deadly threat complicates the motives of the team.
144 pg, FC, $17.99 US

Note: The Super Young Team has its own speedster, Well-Spoken Sonic Lightning Flash.
Share