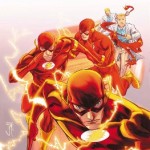 With the new Flash series launching, it's time for me to catch up on Flash: Those Who Ride the Lightning. There's nothing like making a list to help keep track of goals, and there's nothing like making that list public to help stick to them. So, here's what I intend to get done over the next month:
Before the April 14 relaunch:
Bring the write-ups up to speed on the following characters who've changed as a result of Flash: Rebirth.
Flash/Barry Allen
Iris Allen
Professor Zoom
Jesse Quick
Max Mercury
Impulse/Iris "Irey" West
Jai West
By the end of April:
New image for Flash Barry Allen
New image for Impulse Irey West
New image for Jesse Quick
Update appearance lists
It's going to be a busy month. I've also got a vacation, one or two conventions (WonderCon next weekend for sure, but I still haven't made up my mind about Wizard World Anaheim), promoting the Design Your Own Flash Ring Contest (thankfully, Devin's handling the actual contest!), and all kinds of other stuff.
I guess I just need to focus.

Share