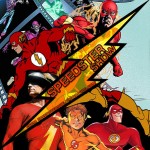 While catching up at the SpeedsterSite forums, I found a thread announcing the first episode of the SpeedsterShow Podcast. It actually launched a week ago, but I missed it because I haven't been keeping up with forums much lately.
Listen to Kuhan, West, Prime, and Ben as they discuss the highs, but mostly lows, of Flash Rebirth and Blackest Night: Flash and how they feel about the future of the Flash ongoing! Also, old news…
In addition to the podcast website, it's also on iTunes.
Now I know what the soundtrack for my commute is going to be for the next day or two.
Share