With the release of the Flash #1 preview, there's been renewed talk about Iris Allen's youth. After all, she lived long enough in the future to have children, watch them grow up, and have grandchildren, and when she came back with Bart, she looked visibly older: graying hair, crow's feet, etc.
The question came up a lot when Flash: Rebirth launched last year, and I recall Ethan Van Sciver mentioning in one of his podcast interviews that he tried to draw her somewhat older, but that she and Barry didn't look right together, so he and Geoff Johns decided to make her look closer to his age.
Now, there are a lot of reasons one can give for her looking 30 instead of 50 or 60: better medical care in the 31st century, the fact that she's been transplanted into a new body at least once (don't ask!), and the suggestion made in Flash: Rebirth #5 that exposure to the speed force keeps people young. This had actually been established before with Jay and to a lesser extent Joan Garrick.
Of course, it doesn't explain why Iris would appear older in Flash vol.2 and Impulse, then younger in Flash: Rebirth and Flash vol.3, but since then, DC has established Superboy Punches, the "New Earth" rearrangement of history in Infinite Crisis, and Flash: Rebirth's alterations of Barry Allen's past — including how and when he and Iris met.
But let's not forget: When she returned after an extended absence during Geoff Johns' run on Wally West's series, Iris made her entrance looking like this: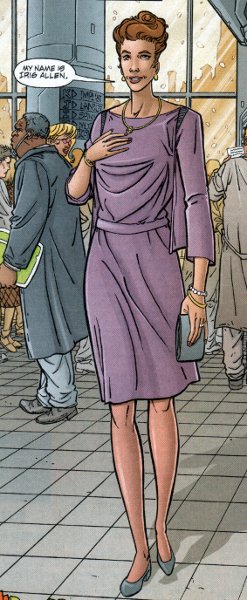 That's Flash vol.2 #180 (2002), art by Scott Kolins & Doug Hazlewood.
Share