The collected edition of The Flash: Rebirth comes out this week, along with a JLA hardcover and a couple of new releases.
Flash: Rebirth Hardcover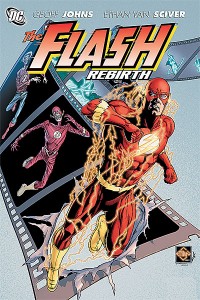 Written by Geoff Johns; Art and cover by Ethan Van Sciver
Geoff Johns and Ethan Van Sciver, the writer/artist team behind the blockbuster GREEN LANTERN: REBIRTH and THE SINESTRO CORPS WAR, create an explosive, jaw-dropping epic that reintroduces Barry Allen as The Flash in this hardcover collecting the fast-paced 6-issue miniseries. But how will this greatest of all Flashes find his place in the twenty-first century?
DC Universe · 168pg. · Color · Hardcover · $19.99 US
Buy it at your local comic shop this week, or order it from Amazon, who'll have it next week.
As I recall, extras include character designs, such as some of the drafts Ethan Van Sciver went through when redesigning Wally West's costume, and attempts to draw Iris Allen showing her age a bit more than the "hot Iris" she became.
(I have to ask one thing: Did the copywriter who called this miniseries "fast-paced" actually read the book? It was a slow burn that didn't really get going until issue four.)
Also This Week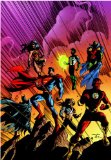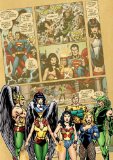 Flash: Rebirth isn't the only hardcover coming out this week, or the only DC book to feature one of the Fastest Men (and Women) Alive.
Share