DC's Brightest Day solicitations for September are up, including…
The Flash #6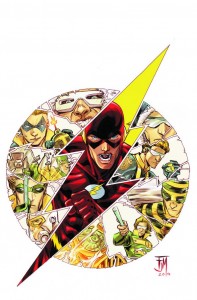 Written by GEOFF JOHNS
Art and cover by FRANCIS MANAPUL
1:10 Variant cover by ALE GARZA & SANDRA HOPE
BRIGHTEST DAY dashes on with the stunning conclusion of "The Dastardly Deaths of the Rogues!" With Barry caught between the Rogues and the Renegades, the resurrected Captain Boomerang's role in the adventure is revealed! You won't believe how this leads to the upcoming FLASHPOINT…
On sale SEPTEMBER 22 • 32 pg, FC, $2.99 US
So if "The Dastardly Death of the Rogues" wraps up in #6, but the collection covers #1 through #7, presumably we've got a done-in-one story coming up in October.
And they're already starting to plug Flashpoint.
In related news, DC has rescheduled The Flash from the beginning of each month to the end. Flash #3 is now June 30, Flash #4 has been moved from July 14 to July 28, and Flash #5 is now August 25 (previously August 18) — all in keeping with the September 22 date they just gave for #6.
Reminder: You can now follow Speed Force on Facebook, Twitter and Google Buzz.
Share