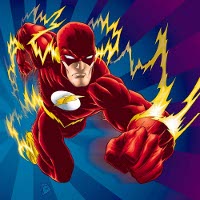 The Hollywood Reporter reports that Warner Brothers has hired Greg Berlanti, Michael Green and Marc Guggenheim to write treatments for Green Lantern 2…and The Flash! The trio will then write the screenplay for one of the movies.
Surprising no-one who has read any DC comics during the last two years, the movie "will take inspiration from [Geoff] Johns' recent work and will feature the Barry Allen incarnation of the character."*
The three writers have all been involved with the Green Lantern film. Greg Berlanti had been rumored as a possible director for The Flash, and of course Marc Guggenheim wrote the "Full Throttle" story for the comic book Flash: The Fastest Man Alive. Interestingly enough, Berlanti and Guggenheim will be bringing another speedster to the screen — the TV screen — in this fall's No Ordinary Family.
Presumably this means they've abandoned the Dan Mazeau script announced last year. It's hardly the first time the movie has been sent back to the drawing board in the nearly six years since it was first announced.
News found via The Nerdy Bird!
*Yes, I know that's a picture of Wally West. THR used the cover for The Flash Secret Files #1 in their article, and I figured I would too just because it looks cool.
Share