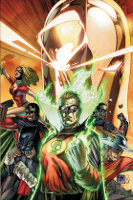 DC announced that Marc Guggenheim (Flash: The Fastest Man Alive — Full Throttle) will be taking over Justice Society of America after its crossover with the Justice League finishes. In an interview with CBR, Guggenheim says:
Jay Garrick will be the center of the universe here. Whether he turns out to actually be mayor, well, you'll have to continue to read the book. I think it will be interesting to watch Jay evolve and grow as a character.
Shane Davis will provide the covers. The interior artist hasn't officially been announced, but Guggenheim tells Newsarama, "I'm equally thrilled to be working with Scott Kollins."
Update: Newsarama interviews Guggenheim on the move: He'd been in talks to do an "inventory arc" for JSA, and then Bill Willingham left and the editor asked him if he wanted to take over the series. (I find it interesting that where, in the old days, they'd do an inventory story, or an inventory issue, in case the book was running behind…now they seriously talk about an "inventory arc.")
Update (July 19): DC's October solicitations confirm Scott Kolins as the new artist.
Tip of the shiny hat to Wayne Lippa for spotting the Kolins reference.
Share