I've gotten out of the habit of putting together the full "Out this week…" posts except when a new Flash issue is out, mostly because of the time it takes (more than you'd expect, especially if I include images), but Jesse reminded me that this week's issue of Magog features Flash Wally West…in a cover appearance, no less!
Also this week is the collected edition of Blackest Night: The Flash!
Magog #11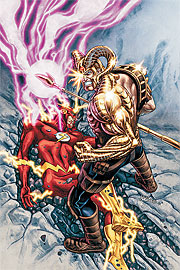 Written by SCOTT KOLINS • Art and cover by SCOTT KOLINS
The Psy-cho Twins are seeing flashes of the future, and for Magog that appears to mean KINGDOM COME! In part 1 of a 5-part* story written and illustrated by Scott Kolins, Magog races across the U.S./Canadian border to stop an experiment gone wrong at S.T.A.R. Labs, and it becomes clear he's witnessing the birth of N-I-L-8, a major player from KINGDOM COME!
Note: I told myself that my days of picking up every random appearance by my favorite character were over, but (a) it's Scott Kolins, (b) I doubt we're likely to see Wally much of anywhere else until Flashpoint, and (c) Jesse reports that it's got Tina and Jerry McGee in the issue as well.
*DC canceled the book with issue #12. Instead of finishing in the pages of Magog, the story will wrap up in Kolins' JSA Special in September.
Blackest Night: Black Lantern Corps Vol.2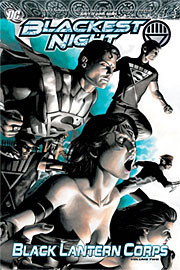 Written by JAMES ROBINSON, GEOFF JOHNS & GREG RUCKA • Art by SCOTT KOLINS, NICOLA SCOTT, EDDY BARROWS & RUY JOSE • Cover by RUDOLFO MIGLIARI
The Flash, Wonder Woman and the JSA come face to face with their greatest foes and long-lost loved ones, newly undead as evil Black Lanterns, in this collection of three 3-issue BLACKEST NIGHT miniseries:
Blackest Night: Justice Society of America
Blackest Night: The Flash
Blackest Night: Wonder Woman
240pg. · Color · Hardcover · $24.99 US
Order from Amazon (shipping next week) or buy it at your local comic shop today!
Note: Volume 1, featuring the Blackest Night Superman, Batman and Titans miniseries, is also out this week.
Share