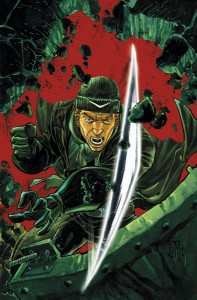 Captain Boomerang is sort of in a legal limbo right now: is he still culpable for crimes he committed before he died?
In one sense he's like Ygor in Son of Frankenstein: Ygor was hanged for grave robbing and pronounced dead — but the coroner made a mistake. He was still alive, but legally speaking, no one could touch him. Not only had the sentence for his original crime been carried out, but they couldn't arrest a "dead" man for new crimes.
In The Flash #3, the guards at Iron Heights prison talked about getting Boomerang's murder convictions reinstated…but something's missing: Until that happens, what is he being held for? What has he been charged with? (Admittedly, the prison is still run by Warden Wolfe, who has never been particularly concerned with following the law where criminals are concerned.)
Of course, now that he's shattered a frozen guard (probably killing him), seriously injured several others, broken out of prison, and left a swath of destruction on his way to confront the Flash, it's a moot point. There are plenty of new crimes to charge him with the next time he ends up in police custody.
But technically, what was he doing there to begin with?
The legal system in the DCU must have procedures, or at least precedent, for dealing with heroes and villains coming back from the dead. No one seems concerned about the Flash's legal status, and Barry Allen's official records say he was simply in Witness Protection, not dead, but it's got to have come up in other cases.
Share