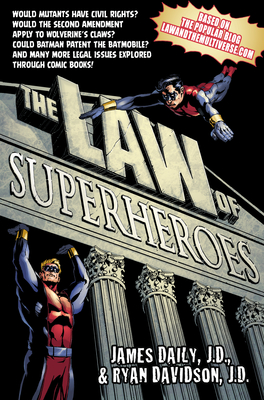 Could Batman patent the Batmobile? Is it murder if you kill Wolverine, knowing he'll regenerate? Does Superman need a warrant to use his X-ray vision on your house? How much trouble can Stark Industries get in if one of Iron Man's fights levels your business?
James Daily, J.D. and Ryan Davidson, J.D.'s The Law of Superheroes answers these and more questions about the legal implications of super-heroic tropes. You may recognize the names or the concept: The pair of lawyers and self-described comic-book nerds also write the blog Law and the Multiverse.
You'd think a book about law would be a dry read, but it's actually a lot of fun. That's sort of the point: some land dispute might not grab the average reader's attention, but Superman's troubles with the IRS? That's something anyone can relate to. More than a "what if?" collection, the book works as an overview of U.S. and international law, told through the lens of comic books.
Examples
Some of the implications are kind of surprising. For instance: Music from a parallel universe where the Beatles never broke up (New Excalibur 4) might not be protected by copyright, because Earth-2182's U.S. and U.K. never signed our universe's Berne Convention. On the other hand, the surviving Beatles might still be able to control distribution through trademark law.
Another interesting thing to think about: if Commissioner Gordon calls Batman in on a case, he's legally required to follow the same rules as the police regarding search warrants and the like, or else evidence may not be admissible. But if Batman goes after the Riddler on his own, he can probably sneak into the villain's hideout looking for clues and not jeopardize the case (although he'd technically be guilty of breaking and entering). Continue reading →