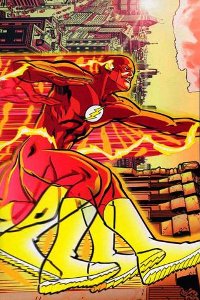 Now this is unexpected news! Just a few days ago, I was grumbling about how DC seemed to be ignoring a potential market by keeping Geoff Johns' first run on The Flash out of print. It seemed like a sure thing: DC's current superstar writer (not to mention Chief Creative Officer) on one of the books that made him famous (the other being JSA) — and one that he's returned to with a high-profile relaunch.
Well, DC has posted a list of summer 2011 collections, including this surprise:
The Flash by Geoff Johns Omnibus Vol.1 HC
Writer: Geoff Johns
Artists: Angel Unzueta, Scott Kolins, Ethan Van Sciver, Doug Hazlewood, Jose Marzan Jr. and others
Collects: THE FLASH #164-176, THE FLASH: OUR WORLDS AT WAR #1, THE FLASH: IRON HEIGHTS #1 and THE FLASH SECRET FILES #3
$75.00 US, 448 pages
Scheduled for release in May
Compared to the trade paperbacks, that reprints Wonderland and Blood Will Run (the second edition includes Iron Heights) and the never-before-collected Our Worlds At War tie-in.
Admittedly, $75 is a pretty steep price, but it's comparable to the Starman Omnibuses and still cheaper than the typical Absolute hardcover. Also it's usually easy to find these books at a discount. (The $50 Archive books can usually be found online for around $35, for instance.)
And considering that you have to spend about that much for a copy of the out-of-print Crossfire or Blitz trade paperbacks anyway, it's starting to look like a good deal!
So it looks like DC has plans to bring Wally West's Flash stories back into print after all, even the incredibly-hard-to-find Crossfire and Blitz. Judging by the length of this book, it will probably take them four volumes to cover all of Geoff Johns' run.
(The image I've used here is from the cover of Flash Secret Files #3. It's not from DC's post, which doesn't include any covers.)
Share